Welcome to Lanhydrock Accountancy Practice
:: Bookkeeping :: VAT :: Real Time Payroll :: Annual Accounts and Tax :: About us ::
COVID-19 UPDATE: We are open as normal but working remotely so the Lostwithiel office is closed. You can contact us by the usual phone number and email address.

We are sharing guidance about payroll etc. but information is changing on a daily basis. If you have concerns please contact us and we will do our best to advise you.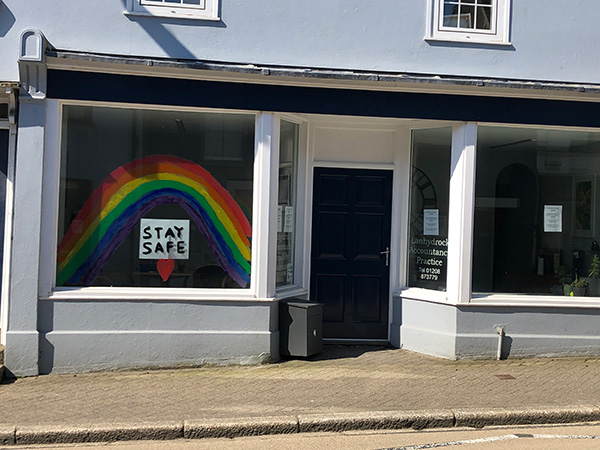 We offer a friendly, practical down to earth approach to accountancy that customers can understand and appreciate - that's the approach of this family run business.
The practice is run by Lucy and Brian Smith and their staff of three, we have a loyal customer base from individuals to small and medium sized businesses who appreciate our no nonsense, no jargon approach.
Peace of mind and professional expertise, without charging the earth is what's on offer. The customer always gets what they are looking for with a service tailored to meet their needs - on a weekly, monthly or annual basis.
From new business start up advice, to VAT assistance, payroll, bookkeeping, year end accounts, self assessment tax returns and corporation tax, Lanhydrock Accountancy Practice covers every aspect of business and personal financial management.
Whether you're starting up in businesses, would like some financial advice or need someone to take away some of the pressures of running your business Lanhydrock Accountancy Practice is there to answer your needs.
Lanhydrock Accountancy Practice has been established since April 2000 offering services to the local business community.
At Lanhydrock Accountancy Practice we feel strongly about providing the right level of professional service and protection. We therefore include as part of our service a "Fee Protection Scheme" which is provided by Taxwise. This covers the cost of responding to an handling any HMRC investigation. This service also includes complimentary access to employment law and Health and Safety advice lines. Unlike most other accountants we do not make an additional charge for these services.
Call for a no obligation appointment - there is no charge for the first consultation.
Our services
Bookkeeping
Our experienced bookkeepers can process your transactions efficiently and accurately leaving you free to run your business. The service provided to suit your circumstances - weekly, monthly or quarterly - transaction processing, customer invoicing, statements and debt collection. We can easily provide management information (monthly profit and loss statements, etc) from our SAGE software. We also offer a regular collection service.
If you do your own bookkeeping we can help you whether you use a manual or computer based system.
VAT
Our specialist team offers expert advice in all areas of VAT providing compliance and efficiency reviews, training and advice on ad-hoc projects and prompt response to queries. Our VAT service simplifies the process for you.
When the time comes we can register you for VAT and complete your VAT returns from either your own records, or if you use our bookkeeping service, from the information hold, making sure that correct amount of VAT is claimed or paid. Reclaim your free time, and let us handle your VAT.
Real Time Payroll
We comply with all the recent changes for real time information by HMRC. We operate a full payroll bureau using the latest SAGE software. Payroll can be processed to suit your business - you send in the details of hours worked and we can return the payment details and pay slips the same day. All PAYE forms and return are filed online on client's behalf. We provide burden-free payroll services including tax calculation, sick pay, maternity pay, HMRC returns, pension deductions and reports, and child support agency deductions. We work with a wide range of industries and can deal with weekly, monthly or fortnightly pay. We have the facility to send your employees payslips via email which will also save you time.
Annual Accounts and Tax
We provide tax advice for self employed, partnerships and limited companies. All returns can be submitted online using our up to date HMRC-approved tax software. We also present accounts in a clear and timely fashion and take time to interpret the data so you can make decisions based on performance and accurate information. Again we will ensure your tax return is done for you correctly and done on time. If we don't already have the necessary information, we will provide clear details of exactly what we need from you. We complete the return, you keep your tax bill to a minimum, and we file it for you online.
About us
Lucy Smith
Director
ACCA part-qualified accountant
Studied at Sheffield Hallam university
Many years work experience in small business bookkeeping, payroll, accountancy and tax.
Lisa Clemens
AAT Qualified accountant
Studied Business and Administration at Duchy College
Started with us in July 2002
Family background in dairy farming
Daniel Pascoe
AAT Qualified accountant
Studied at Penrice Academy and St Austell College
Started with us as an apprentice in September 2016
Successfully completed his AAT qualification in January 2019
Brian Smith
Director
Qualified CIPFA accountant - 1991
BA (Hons) in accountancy - 1985
Until June 2003 was Director of Finance in the NHS
Previously worked for National Audit Office and Price Waterhouse
Timothy Jarrett
Payroll Clerk and AAT trainee accountant
Studied at Fowey school and Truro School
Started with us as an apprentice in September 2014
Emma Gough
AAT trainee accountant
Studied at Bodmin School
Started with us as an apprentice in September 2016
Contact us
6 Queen Street
Lostwithiel
Cornwall
PL22 0AB

01208 873779
01208 872081

brian@lanhydrockap.co.uk
We are located in the middle of Lostwithiel, off the main A390, just along the road from the post office.
Free parking is available at the car park by the community centre on Pleyber Christ Way.